CarbonCM®
Construction Management Software Tailored to Your Needs
What is CarbonCM?
At CTEH, we understand that a clear and transparent process is necessary to effectively implement and carry out projects during a crisis. We have brought together years of management expertise with real-time software development capabilities to create a robust and user-friendly construction and process management solution: CarbonCM.
CarbonCM is a web-based platform that provides tools to streamline the management of work orders, change orders, and invoicing while avoiding the negatives associated with those tasks. This platform has been proven to resolve the problems historically associated with complex disaster recovery projects, and aid in the management of recovery.
Highlights:
Work Order Management
Task & Progress Tracking
Change Order Management
Final Inspection Integration
Multi-Level Invoicing
Program Data Visibility
Multi-Tiered Intelligence
Task & Progress Tracking
Field crews equipped with mobile devices track task completion in real-time with photo documentation. Tasks are sure to stay in sync with program-recognized assignments, program-approved change orders, and the program-recognized final inspection results.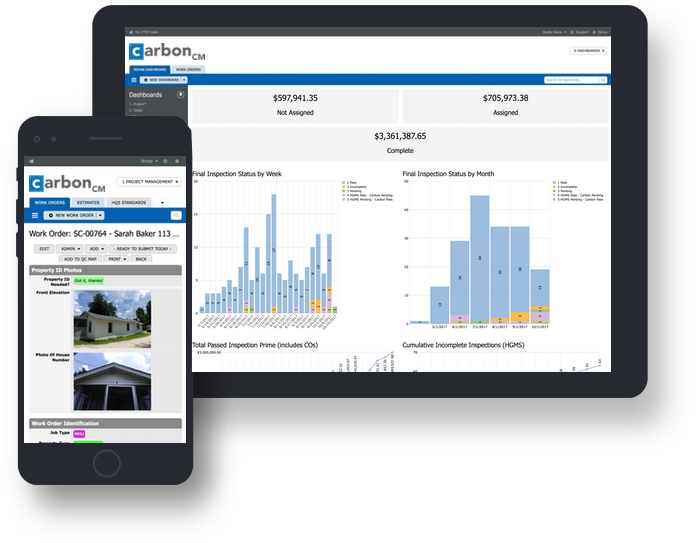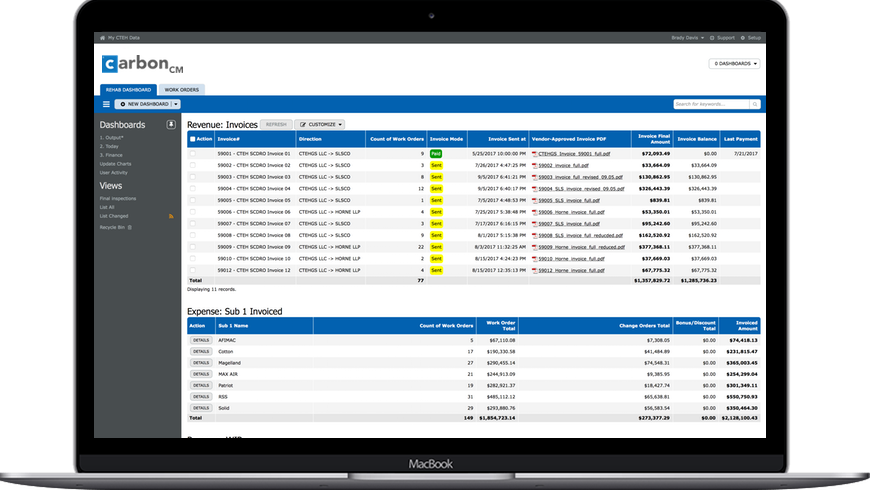 Multi-Level Invoicing
Integrated multi-level invoices establish all CarbonCM® subcontractor invoices are restricted to work orders recognized as complete by the program, match program-recognized construction tasks, are in sync with program-recognized change orders, and match the exact subcontractor negotiated rates.
Change Order Management
Program management integrated change orders support program standards compliance. Any authorized user can create a change order using any computer or mobile device. Once a digital change order is created, program & construction management is notified. This process significantly reduces the amount of time required to complete and approve standard paperwork.